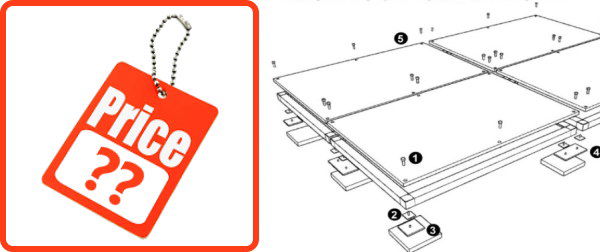 If you are visiting our online deck store website for the first time, we know that is probably the one BIG question on your mind...
The sad truth is that unless you are buying small and high-value goods such as electronics or clothing, that would be the only way you can enjoy near factory prices from Asia. As the cost of shipping back your lightweight items to you is extremely low. On the other hand, when it comes to furniture or deck items you would in principle be able to enjoy true factory cost. But only IF you are prepared to fill a container load and ship it back by ocean freight. For example, you would do that if you were an importer or a distributor.
Does that mean its not feasible to buy one-off bulky items like decks from Asia? The answer is a yes and a no. You just need to look at it from a different spending viewpoint.
Imagine if you were to buy our products through a dealer in the US. Chances are, you might be far from being to be able to enjoy factory prices. Since your dealers needs to cover their costs and make a profit at the same time. So they would probably need to add a significant mark up on top of their landed goods cost. That means you would have to pay full US retail market price to your dealers.
In our case, since we ship your decks direct to you, and undeniably, a fair portion of your payment amount goes to international freight logistic providers. Such as UPS, DHL, etc. Remember, loose cargo shipping can cost considerably more than full container loads. So instead of US dealers or distributors receiving a sizeable portion of your payment amount, that equivalent (but smaller) portion will be instead be re-allocated to reputable international logistic providers. A good example is UPS who employs thousands of American workers.

On top of logistical costs, we also have to bear the cost of serving the US market such as US-based support services: temporary warehousing, truck deliveries, skilled vendors, marketing, advertising, warranty, exchanges, etc. All which are billed into our operational costs as US currency and commands a much higher exchange rate than ours.
Meaning to say that Decklife can only make the same or slightly above margins (upgraded specs) whether we are selling our decks here locally or overseas to you. As highlighted above, there is simply very little room for us to inflate our profits. Our major aim is to keep our decks highly competitive and affordable by the time you receive it on your doorstep.
The good news is, you will still get to enjoy paying prices below full US retail prices when ordering through Decklife. And we know that the extra waiting time will be well worth it.
As a last note, we realize the term DIY in the US is quite subjective. It could literally mean several weekends of endless hard labor supplied with only bare bones diy components.
Through Decklife, our items are fully assembled mock-up replicas of your actual deck. So 90% of DIY work has already been done for you on our part. You just have to take care of the 10% (maybe less) re-assembly process. Perfectly possible within a span of few hours.
Sounds very doable and a great incentive for you to import? We hope so too!


READY TO BROWSE DECKING PRODUCTS?
CLICK ON '
SHOP FOR DECK
' LINK NOW!